Introduction
Clients often contact us with they need a Corporate Portal or Website. Use of Microsoft SharePoint platform is one of the easiest and convenient ways to solve their tasks. In this article, I'll try to briefly describe the powerful tool for creating similar solutions.
Microsoft SharePoint is a web-oriented platform for collaboration and document management. The solution can be used to create various web-sites with shared documents or dedicated applications (i.e. Wiki, blogs, and forums). SharePoint functionality is presented to the User through editable control elements that display data. Such web parts are placed on pages which in their turn are placed on the Portal and are available to the User via the browser.
SharePoint is presented in two main products:
Windows SharePoint Services;
Microsoft Office SharePoint Server.
Windows SharePoint Services
Windows SharePoint Services (WSS) –  is a platform for deployment and content management by Microsoft. WSS has the following features:
is a storage of files and folders;
gives a basic option for information search;
provides functionality of a content management system;
management of access rights definition;
gives an option for a web part extension.
After the application deployment, standard or customized web parts can be used. Blogs, private address books, document store websites, internet shops, news websites, pages with audio and video players can be easily created with the help of the applications. All the functionality above can also be combined on a single portal. Our developers can alter any website component per your requirements.
The Lists can be set up to display different document types in various views as per the User's specific tasks. Microsoft SQL Server is used as a DBMS for applications based on SharePoint.
Microsoft Office SharePoint Server
Microsoft Office SharePoint Server (MOSS) is the best component for integrating SharePoint functionality into MS Office applications. It expands Windows SharePoint Services with new options. If a document has to be saved as a part of web-applications, the solution to use is MOSS. Client Office applications (including Word, Excel, Outlook, InfoPath) can be easily used as constituent parts of Corporate solutions built on SharePoint. All MOSS functions can be extended by our developers to implement a wide range of products: from simple web-panels to complex web-applications.
SharePoint Advantages
SharePoint products and technologies give a wide range of advantages not only to developers, but also to separate users and organizations of any level:
Full functionality of a portal right after the installation
All SharePoint Server options are available right after the installation. Though the set of Server options is wider and include news, catalogues, topic areas, private web-sites- "my site", supposed audience selection, tools for searching and viewing employees, work groups and information as well as creation of web-sites that give the necessary structure for building a single workspace. SharePoint is based on Microsoft Windows SharePoint Services that is why Windows SharePoint Services tools for co-working will be available at once.
Performance and scalability
SharePoint Server supposes the following flexible means of deployment that provide distributed structure and optimal work of the portal: SharePoint supports creation of server farms with distributed task servers, database servers, search and indexing options by different external services. Shared Services could provide access from a single center and employ several portal farms services like search or support of private web-sites. Besides SharePoint Server can serve up to 1,000,000 Users concurrently, registered in Active Directory, and it has a data throughput of 250 pages per second.
Private sites ("My sites" section)
A Private site is a site that may have a private view where the User stores data inaccessible to others, i.e. unfinished documents, private pieces of news and weblinks; and general view where data for other Users is stored, i.e. presentations or finished reports. Information in general view of private sites can be indexed by Administrator with the help of catalog services, i.e. Active Directory, which provide Users with the ability to search for information and examples that help them to complete their tasks within the whole company.
Single sign-on
Singe sign-on allows Users to receive personal data from any system part with just a single login to the system. When Users login to the portal, SharePoint saves User data in a secure place. When the portal applications require information from other business-applications, i.e. company recourse planning system, CRM system of third party providers, SharePoint uses User data verifying them in Active Directory. So the User doesn't need to login into external business-application.
Flexibility, personalization, adaptation of web-components and web component-based pages.
SharePoint provides additional web-components and flexible means of their management, which allow Users to set up portal pages in the necessary way with simple drag-and-drop of the components to the page. In Microsoft Office FrontPage, there is a complete support of web-components and web-component-based pages , including adding, editing and setting up of web-components, web-components zone and different web-component pages;
Subject parts
SharePoint provides subject sorting, which is highly intuitive when searching for a survey of random data from documents and people information to web-sites based on Windows. A document or link can be refered to several subjects, subject parts may contain documents stored in SharePoint, as well as links to information from other sources. Management policy has a hierarchical distributed structure that allows experts in this field to create and maintain the most favorable parts.
Active Directory integration with Microsoft Office products
SharePoint scans through Active Directory catalogues gathering User data. Users can manage information about them in the portal and get alerts when other Users publish or change information.
SharePoint makes Users' work more comfortable regardless of the application they use. The User can create and maintain web-sites, i.e. website of the document working area, add news and events to SharePoint web-sites on the portal and get alerts with the help of web-browser.
Search
SharePoint allows Users to search by key words in the whole text and in the document properties. Users can search for not only information, but also other people, work groups and web-sites of the portal.
Key features of Windows SharePoint Services
Private websites, workgroup websites and subject areas of the SharePoint portal have all the features of Windows SharePoint Services document libraries, supporting version alert, simple routing and confirmation mechanism. Users can check in and check out documents or return to previous document versions using their usual applications.
SharePoint provides a wide range of calendar events lists , advertisements, links, tasks and also the ability to define new lists (which serves as a flexible means to resolve different tasks). Additionally, SharePoint creates web-sites , uses meeting web-sites and document workspace right from the applications of Microsoft Office group. Websites created with the help of checked templates make it easier to conduct discussions and meetings, improving co-working of the work groups and companies.
Besides, SharePoint provides a list of additional facilities:
Has a custom design option;
Has an option of IE, FireFox, Safari, Opera browsers usage;
Has wide options of User rights distribution;
Has a high safety level of the data transfer.
Creating applications using SharePoint
Process of web-application development using SharePoint is similar to the process of application development using more traditional means (i.e. PHP). Nevertheless, product development stage itself goes much faster and as the result cheaper to the Client.
Simplified process of web-applications creation with the use of SharePoint can be given with the following set of actions:
SharePoint deployment and web-site creation by default;
After Windows SharePoint Services deployment the web-site is created by default;
Web-sites collection for the application with a template is created by default;
Then there is a creation of the necessary types, lists and user groups;
User rights are defined for the lists. The full safety of User information is provided.
Necessary application components (i.e. wikis, blogs, calendars, etc.) are added and set up.
Web-site interface is setup per Client's wishes.
Examples are given in appendix 1.
Using the action sequence, our developers can shortly create web-applications from Corporate web-sites any type of scale to internet-portals with wide functionality.
Note: SharePoint is a powerful tool which enables creation of web-sites and a big number of applications that use web-interface. Illustrations of the fact are examples of the products from Appendix 2.
In the next chapter the process of creation of the concrete web-application using SharePoint (documents circulation) will be described.
Appendix 1.
The examples show the variety of design, variants of layout of active elements (i.e. links, bookmarks, etc) and information blocks for SharePoint-based websites. It is seen from (in) the picture below that availability and layout of site elements, links, and design may be set according to Users' wishes.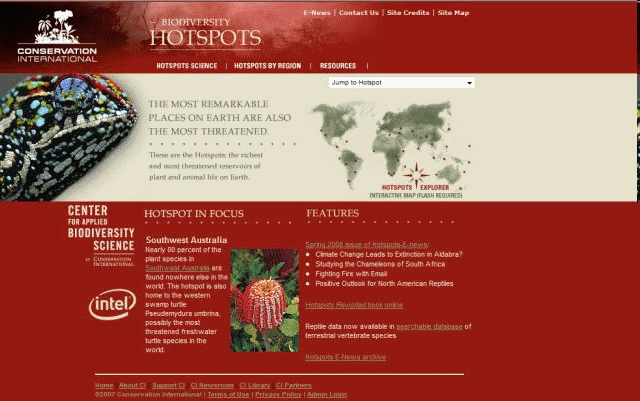 Website BIO Diversity Hot Spots (www.biodiversityhotspots.org/). Typical feature of the webpage is availability of active elements and information blocks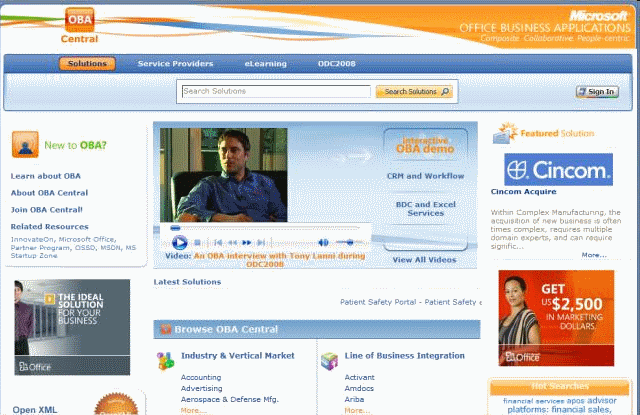 Website Microsoft OBA Central (www.obacentral.com/). Typical feature of the webpage is a huge amount of active elements and a player.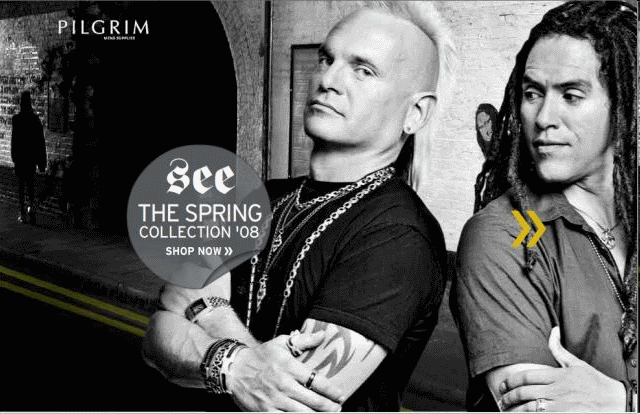 Main page of the "Pilgrim Men's Supplies" website contains minimum active elements. (www.mens.pilgrim.dk/)
Appendix 2. Examples of applications based on SharePoint.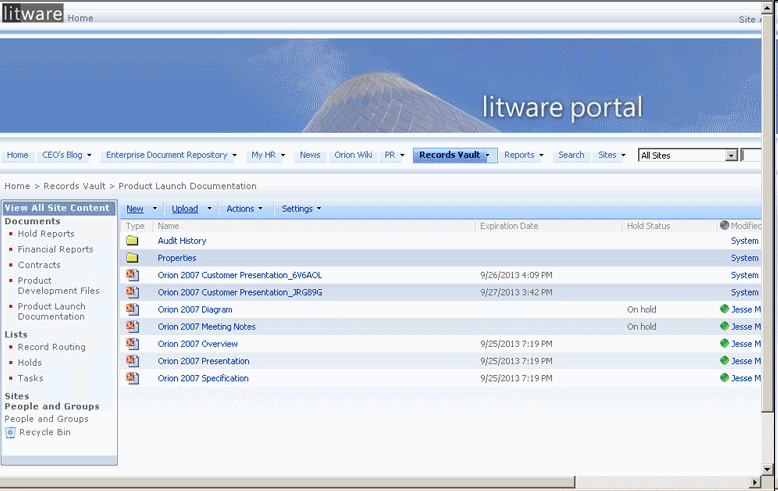 Data store for long-term period (example of corporate portal from Microsoft.com website). This application provides for uploading, deleting, editing documents in the store. Access to specific documentation is implemented through the rights distribution system.
This entry was posted on Thursday, March 12th, 2009 at 9:00 am and is filed under Architecture, Sharepoint.